Bio
Bio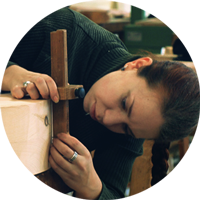 ¡Hi! My name is Ana, I'm 29 years old and I'm a graphic designer.
I was born in A Coruña (Spain), but I've been living most of my life in Pamplona.
I've got a degree in Artistic Cabinet Making and another in Arts Applied to Wood.
I've also got a degree in Graphic Design from the School of Art of Vitoria-Gasteiz (Spain).