About
About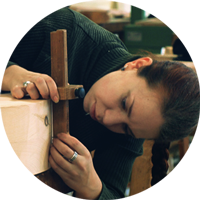 ¡Hi! My name is Ana and I love handmade works, the smell of the wood and celtic artwork.
I've got a degree in Artistic Cabinet Making and another in Arts Applied to Wood.
Here you will find some of my works created using different techniques and materials.
---
Portfolio
Portfolio
---
Contact
Contact
Have you got any project in mind in which you'd like me to take part?
Did you like my works and you want to know more about me?
You think they're awful and want to call me names?